Do you know what types of emails you should be sending your email list? You probably know that email marketing is the best way to sell online, but after you grow your email list, then what? In this post, we'll cover 13 types of emails that you need to be sending your email list.
While collecting emails and encouraging website visitors to opt in to your list is a major process that requires a lot of time and effort to perfect, the end goal is not to have a massive list of subscribers. At some point, you have to convert these subscribers into customers.
Effectively turning all those email leads into paying customers really depends on the types of emails you're sending.
Why You Need Different Types of Emails
The problem with many ineffective email marketing campaigns isn't that they send emails too frequently or infrequently. It's that the content they're sending isn't differentiated enough.
If you're simply sending out the same old weekly newsletter over and over again, your subscribers will stop being interested in your emails before they have a chance to convert.
The other problem with ineffective email marketing campaigns is that they don't include a good mix of "value" based emails versus "selling" emails. If you are constantly sending either one or the other type of email, you'll either turn your subscribers off or you'll never sell anything.
Be willing to mix things up. Your subscribers will appreciate it, and you'll enjoy the benefit of higher open and click through rates, leading to increased sales.
To get you started, let's review some of the different types of emails you absolutely need to be sending your list…
1. The Welcome Email
Your welcome email is the email you send a subscriber within 24 hours after they opt in to your list. It's a simple email that tells them how happy you are that they've subscribed, and then lays out some of the things they can expect to receive in their inbox.
In MacPaw's welcome email, they let you know to expect a monthly newsletter with information about their products, special offers, updates, etc. By setting the expectations from the get-go, their new subscribers won't get any unpleasant surprises in their inbox.
2. The Offer Email
This email includes a discount, coupon, or some other special deal that you send out to subscribers as a "thank you" for being on your VIP list. Offer emails typically have high open rates.
Whether or not your business model includes offering sales and discounts, it's a good idea to send out some sort of special offer just for your subscribers every now and then. This shows your appreciation, and drives sales.
These emails are very important because they are the exact reason that their subscribers have signed up to be on their list: to hear about the sales before everyone else.
3. The Survey Email
A really good email marketing campaign isn't a monologue… it's a dialogue. You can't expect to shower your subscribers with emails without ever asking them for their input.
That's where the survey email comes into play. It's a simple email (typically sent within the first couple weeks) that asks them to respond to certain questions around topics relevant to your product. You can then use this information to better tailor your marketing efforts to their needs.
Your survey, however, doesn't need to be a lengthy 10 minute questionnaire. You could simply ask your subscribers to rate their willingness to recommend you to a friend.
4. The Request Email
After you've delivered on your promises, you've earned the right to ask for a little something in return. This email can be used to ask for a favor, such as a testimonial or review on a particular site.
Since online testimonials are essentially currency in many industries, this is a high returning email.
5.The Newsletter Email
While the newsletter email gets a lot of focus in email marketing circles, don't fall into the trap of sending boring or uneventful newsletters just for the sake of sending a newsletter. This is a surefire way to make your followers hit the "unsubscribe" button.
Always make sure that your newsletters contain important, intriguing, or helpful information. If you don't have anything important to say this week, skip it.
eROI's monthly newsletter is a stellar example on so many levels. The first few paragraphs include an entertaining introduction to the topic of the newsletter. Then, they include four "insider tips", which include "read more" buttons to the blog post on their site. But the best part of this newsletter is the interactive element at the bottom: they used working radio buttons to allow subscribers to vote for next month's theme! How cool is that?
6. The Free Gift Email
Did you know that the average office worker receives 121 emails per day? Furthermore, open rates for marketing emails hover right around 18 percent. So, if you want your email to be one of the few that's actually opened, you need to give free value now and again.
An exclusive, free gift email sprinkled in to your email marketing campaign will work like magic to keep your subscribers engaged and, well, subscribed.
So what kind of a free gift should you send? An easy way to start is with something downloadable.
7. The Value Email
There doesn't have to be some direct conversion goal behind every email you send. In fact, if you want your conversion focused emails to be effective, you have to first earn your subscriber's trust.
A value email is where you simply provide value with no strings attached. It could be a blog post, a dose of inspiration, or a simple tip. These emails are where you really start to build a relationship with your audience, and they are an absolutely critical component to a high-converting email marketing campaign.
8. The New Product Email
When you launch a product or new inventory comes in, your subscribers should be the first to know.
You already know that these are your most engaged customers, so it's a fantastic way to jumpstart your sales.
Here's a beautiful example of a new product email from Rifle Paper Co. It doesn't need a whole lot of words… the pictures say it all.

9. The Announcement Email
It's worth repeating that email subscribers like to feel valued and special. Whenever you're launching a new product or announcing an event, send a simple email to your subscribers to let them know and make them a part of your growing brand.
This email takes very little time, and is an effective way to conjure up excitement.
Chick-fil-A really does a great job of grabbing your attention and creating a sense of mystery and excitement in their announcement email.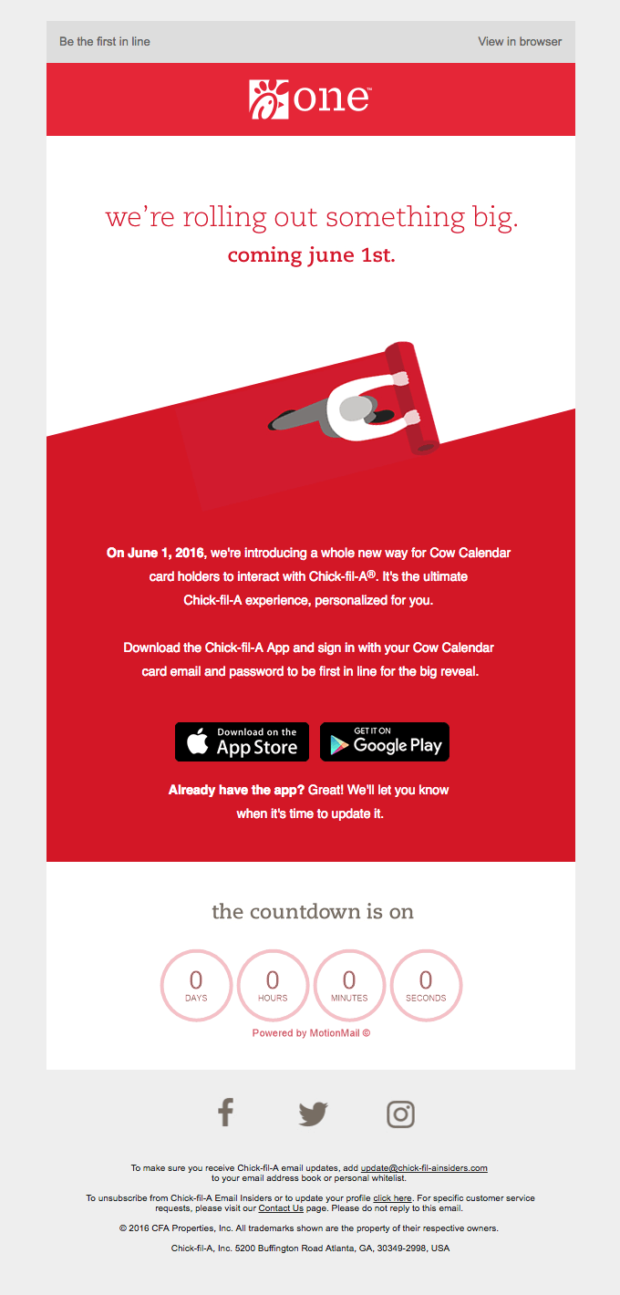 Conclusion
Deciding where to expend your energy and spend your time is a major challenge for email marketers. Do you spend time generating new subscribers, or is it better to focus on writing different types of emails to convert your subscribers into paying customers?
Well, the truth is that you need both subscribers and effective emails in order to make email marketing work for your business.